Why Hire Us?
50 years of combined litigation experience
We only get paid when we WIN your case
Our personal attention to YOUR case distinguishes us from our competitors
When it comes to fighting insurance companies, you cannot afford to hire inexperienced attorneys
Learn More
What Clients Say About Us
"I've known Mike as a bike racer for many years. When I lay in a coma after a bike versus bike crash, my family discovered he was also a tremendous attorney. Mike stayed with me in the hospital. Mike reconstructed my accident to reveal the other rider's error and we settled for that rider's homeowner's policy. Mike was there for me and my family under the most extreme conditions. I trust him with my life."

– Rich Mader
View More
Sacramento Sports Injury Lawyer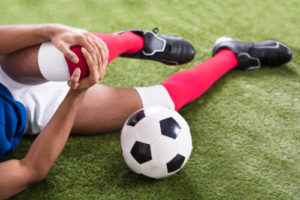 Whether in the gym or on the athletic field, sports injuries are an everyday experience for thousands of people.  While many of these injuries occur as a direct result of the risks inherent in the particular sport (i.e., shoulder injury while playing football, pulled muscle while running), some injuries may be caused as a result of circumstances that are beyond the risks normally contemplated by the participants. This can involve defective equipment that unexpectedly fails and injures someone or inadequate or improper supervision that results in injury to a participant. This may also involve conduct on the part one participant that not only violates the rules of the game, but falls well outside accepted behavior of participants of the sport.
When an individual is injured while confronting a risk that is inherent in the sport, such as physical contact during a football game or getting hit by a batted ball in a baseball game, he or she is generally barred from obtaining compensation for injuries because he or she is said to have assumed the risk of such injury. Similarly, a person who is injured during a fall while traversing a ski slope is usually held to have assumed the risk of such a fall because it is a danger generally considered a risk inherent in the activity of skiing.
The primary assumption of risk doctrine may insulate a defendant from liability where a plaintiff is injured due to a risk or danger that is inherent in an activity in which the plaintiff chose to participate. Where primary assumption of risk is found, the defendant is relieved of any legal duty to the plaintiff. The doctrine applies to certain activities that are inherently dangerous and imposing a duty to mitigate those inherent dangers might alter the nature of the activity or inhibit vigorous participation.
While the assumption of risk doctrine originally applied to participants in active sports or those injured while engaged in recreational activities, the doctrine has been applied to dangerous activities in many other contexts (training in peace officer takedown maneuvers, training on physical restraint methods, practice of cheerleader routines, practice of moves in judo, injury to nurse's aide by nursing home patient.
However, there are many limitations to this doctrine, especially where the injured party can show the defendant unreasonably increased the risks or participation over and above those inherent in the activity. For example, the primary assumption of risk doctrine did not apply where the defendant's design of snowboard jump increased inherent risks of snowboarding is question for jury. Similarly, the doctrine did not apply where artificial jumps built by ski resort operator increased inherent risk of falling while skiing, where a distraction caused by activities of minor league baseball team's mascot increased inherent risk of spectator being hit by a foul ball, and where the operator of a race track designed the track in such a manner that it increased the inherent risk of a collision.
An express assumption of risk occurs when the participant, in advance, expressly consents to relieve the defendant of an obligation of conduct toward him and to take his chances of injury from a known risk arising from what the defendant is to do or not do. Usually this occurs when a person signs a release form before participating in an activity. In such cases, a defendant may have no duty to protect the participant from an injury-causing risk involved in that activity. Waivers and release forms are commonly used by gyms and sports organizations of all types as a means to limit their liability when a participant is injured engaging in such activities.
Even where a participant has signed a release prior to engaging in physical activities, there are many cases where such a signed release will not bar recovery. For example, a release signed by a marathon runner who suffered serious injuries related to dehydration during the race was not barred from seeking recovery from the race organizer which had a duty to conduct a reasonably safe race but failed to do so when it did not provide adequate water and electrolyte fluids to runners along the 26-mile course. Similarly, express assumption of risk did not apply where the owner/operator of a motocross track failed to provide a sufficient number of caution flaggers to alert riders of a fallen participant, which resulted in serious injuries when a fallen rider was struck by another participant.
In addition to requiring participants to sign releases before the commencement of an event, many event organizers require volunteers and employees who work at these events to sign similar releases. This is common practice for race organizers who utilize a number of paid and unpaid caution flaggers and other safety personnel during track events.
Get Started with your CaseCall Us at (916) 325-9010
While a release may be effective against a claim of ordinary negligence, it may still be unenforceable as to a claim for gross negligence. Under California law, an agreement made in the context of sports or recreational programs or services, purporting to release liability for future gross negligence, is unenforceable as a matter of public policy. "Gross negligence" has been defined in California law and legal texts as "an extreme departure from the ordinary standard of conduct" or "want of even scant care."
Establishing liability in cases that involve signed releases can be extremely complex and require the skill, expertise and experience of a firm like Miner & Kelly. Miner & Kelly recently obtained a significant settlement with a race track owner on behalf of two individuals who were seriously injured by a car that left the track during an event while working as caution flaggers, overcoming numerous defenses based on assumption of risk and signed releases.