Why Hire Us?
50 years of combined litigation experience
We only get paid when we WIN your case
Our personal attention to YOUR case distinguishes us from our competitors
When it comes to fighting insurance companies, you cannot afford to hire inexperienced attorneys
Learn More
What Clients Say About Us
"My eight year old daughter was attacked and bitten on the face by a dog while attending her first sleepover. She had horrible scars on her face and it was a very emotional time for me. Mike and Loyal not only took over the case as lawyers but they were there for me and my daughter through all of the doctors' appointments, crying sessions and throughout the pendency of the litigation."

– Rebecca McDougal
View More
Sacramento Slip And Fall Lawyer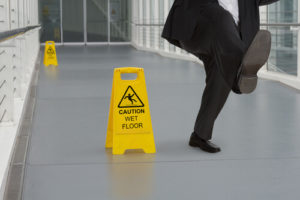 Trips, slips, and falls are some of the most common ways people are injured. Every day, people slip on wet or dirty floors at restaurants, supermarkets and other places, and people trip over broken, uneven sidewalks or curled-up rugs and carpets.
These types of accidents often cause serious injuries and can include broken bones, head injuries and even traumatic brain injuries.
If a property owner is aware or should be aware of a hazard on his or her property and fails to remove that hazard and you are injured as a result, you have the right to be compensated for your medical costs and related expenses.
The responsibilities of landowners vary depending on the type of property and use of the property involved. For example, the responsibilities of the owner of undeveloped land used for recreational purposes differ significantly from the duties the owner of a supermarket or restaurant has with respect to his or her property.
Commercial property owners such as supermarkets and department stores have a duty to exercise reasonable care in keeping their premises reasonably safe for their customers. This includes a duty to conduct frequent and continuous inspections of their premises while open for business. These types of stores must keep a "sweep sheet" or similar documentation to confirm they had in place an adequate inspection system and that inspections were actually performed.
Cities and counties throughout California have a duty to maintain their streets and sidewalks in a reasonably safe condition for pedestrians and to perform periodic inspections to discover and remedy any conditions that may pose a hazard to pedestrians. Cities and counties also have a duty to maintain its public buildings in a reasonably safe condition and to remove any hazards that may pose a danger for those on the premises.
Establishing liability on the part of the property owner or individuals in control of the property can be established by proving the defendant had actual or constructive notice of the dangerous condition that caused the injury.
Actual notice is established by showing the defendant knew of the dangerous condition before the accident and failed to remedy or warn of the condition. Actual notice exists when the owner of the premises received complaints about the condition or saw the condition prior to the incident, or through its own actions caused or created the dangerous condition that caused injury.
Constructive notice is established that the condition existed for a sufficient period of time prior to the accident and that the defendant failed to discover the condition through reasonable inspections of the premises, and failed to remedy or provide adequate warnings of the condition. In many cases proving a defendant had constructive notice of a dangerous condition is extremely difficult, and requires an extensive investigation that often involves taking depositions of multiple witnesses and employees, examination of "sweep sheets" and a thorough review of policies and procedures of the entities or persons in control of the property.
Get Started with your CaseCall Us at (916) 325-9010
If you are injured by slipping or tripping and falling on someone else's property, it is extremely important that you contact an experienced attorney who can properly evaluate your case and conduct the necessary investigation to protect your rights. It is also important to remember that if a government entity is responsible for your injuries, California requires that you file an initial claim with that entity within six months of the date of occurrence of the accident.
Miner & Kelly has successfully represented hundreds of clients who were injured as a result of a an array of dangerous conditions that existed on both public and private property and has obtained significant compensation covering their past and future medical costs, pain and suffering and lost wages for these clients. If you or someone you know has been injured in a trip and fall injury, contact Miner & Kelly for a free legal consultation and complete evaluation of your case.