Why Hire Us?
50 years of combined litigation experience
We only get paid when we WIN your case
Our personal attention to YOUR case distinguishes us from our competitors
When it comes to fighting insurance companies, you cannot afford to hire inexperienced attorneys
Learn More
What Clients Say About Us
"I've known Mike as a bike racer for many years. When I lay in a coma after a bike versus bike crash, my family discovered he was also a tremendous attorney. Mike stayed with me in the hospital. Mike reconstructed my accident to reveal the other rider's error and we settled for that rider's homeowner's policy. Mike was there for me and my family under the most extreme conditions. I trust him with my life."

– Rich Mader
View More
Sacramento Bicycle Accident Lawyer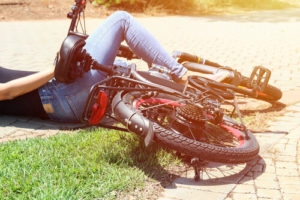 Many thousands of people of all ages are injured each year in bicycle accidents.
Because bicycles share the road with cars and trucks, many accidents are caused by inattentive or negligent motorists who fail to see bicyclists or otherwise drive in a way that endangers those on bicycles.
California has a number of Vehicle Code sections that apply specifically to bicycles and the operation of motor vehicles in proximity to bicyclists. Because bicycles share the road with cars, trucks and buses, many injuries occur as a result of vehicle drivers failing to see or yield the right of way to bicyclists. Because bicyclists have little protection in the event of an accident with vehicles, vehicle vs. bicycle accidents often result in serious or even fatal injuries.
Bike accidents also occur as a result of poorly maintained or uneven roadways or bike routes that can easily cause a bicyclist to lose control of his or her bike and fall. In addition, the design of old-style storm drains frequently cause bicycle wheels to fall between the metal grates on these drains, in some cases causing serious personal injuries to the rider. California now requires that these old-style grates be retrofitted with cross-bars or replaced with safer drains that do not permit bike tires to fall into the space between the grates. However, many of these old-style drains have not yet been replaced or retrofitted and continue to injure bicyclists each year. Many bicyclists are also injured when one of the component parts of their bicycle unexpectedly fails while being ridden, often leading to serious injuries as a result.
Because of the increasing number of bikes on the roads, trails and bike paths, many bike accidents also occur as a result of two or more bicycles colliding with each other, in some cases resulting in injuries ranging from minor bumps and scrapes to extremely serious or permanent injuries. Many people (including many attorneys) make the mistake of believing there is no way to be compensated for injuries suffered in an accident with another bicyclist since most people do not carry insurance to cover this type of accident. However, in many cases compensation may be available through homeowner's insurance. Miner & Kelly recently obtained a significant settlement for a bicyclist who collided with another bicyclist by negotiating directly with the other rider's homeowner's insurance carrier. Even if you've been told that there is no compensation available for injuries suffered in a bike vs. accident, Miner & Kelly may be able to help you.
Get Started with your CaseCall Us at (916) 325-9010
Regardless of the cause, if you or a family member has been injured while riding a bicycle, it is important that you contact an attorney with experience handling bicycle accident injury cases. If your accident was caused by a defective or dangerous roadway, your time to file your claim and protect your rights is extremely limited.
Mike Kelly has 20+ years of bike racing experience and understands the difficulties cyclists go through claiming benefits. He's a strong advocate of those who get in accidents on 2 wheels.
Mike Kelly, an avid bike racer and rider himself, is particularly well-qualified to help those who have been injured on a bicycle and has successfully represented numerous clients who have been injured on bicycles. If you or a family member has been injured while riding a bicycle, contact Miner & Kelly for a thorough evaluation of your case.